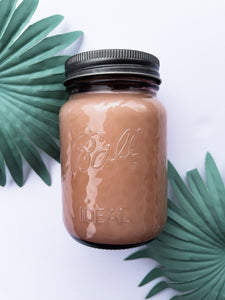 Burn time- average of 75 hours

These beautiful pink jars are a limited edition and will likely not be coming back once sold out because the jars are hard to come by! I love choosing jars that are too beautiful to toss- so after you have burned your candle out please repurpose the jar into your decor or however else you might want!
Candle care: Wood wicks may take a couple tries to get the flame going on the first light- this is normal. The first time you light the candle, allow it to burn until the liquid wax covers the entire top of the candle. This insures that it will perform better throughout the life of the candle. Never leave a burning candle unattended. Keep wicks trimmed to 1/4 inch. They require trimming just like cotton wicks do. Simply snap off the black charred part of the wood wick before lighting each time. If you notice a large flame during burning, blow out the candle & trim the wick before re-lighting. Place burning candle on heat resistant surface. Never move a candle while hot or burning. Blow out the candle if jar becomes excessively hot. Keep out of drafts. Keep out of reach of children.