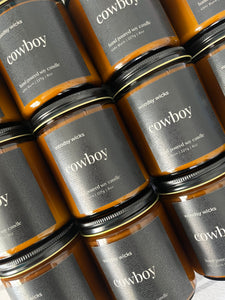 A very sexy scent with notes of citrus, bergamot, sea salt, amber, cedarwood and exotic musk.
About our fragrances- All of our oils are a blend of essential and fragrance oils that are completely clean and non-toxic and meet the highest standards.
About our wax- We use 100% soy wax with NO additives! Some of the many reasons we love soy wax are:
Our soy wax is made from soybeans grown right here in the US by American farmers. Most candles are made from paraffin wax is derived from petroleum (a refined a gasoline product).
Soy wax is a natural, renewable resource.
Soy wax is biodegradable and cleans up so easy with warm water and soap.
Soy wax has a lower melting point than paraffin wax and because of this, soy candles will burn slower or longer than paraffin candles. Studies show soy candles burn about 40% slower than paraffin!
Soy wax burns with zero petro soot, creating petro

 soot-free candles. 

 Paraffin candles burn with petro-soot. This is why you often see candles with black rings around the top or black soot on the wall around paraffin candles! There will be little-to-no soot in your soy wax candles and if there is any present it would only be a result of an untrimmed wick but will not be harmful petro-soot.